DAll Nepali community memebers in New Zealand are cordially invited to join a virtual session organized by NRNA NZ in association with NZ Nepal Chamber of Commerce (NZNCC) and Nepalese Women's Wellbeing Network Incorporated New Zealand (NWWNI NZ).
Date: Sunday, 29th of August, 6.00 PM – 7.00 PM, please make yourself available.
You can also interact with the presenters through comment on live streaming.
The topics covered are:
Topic 1: COVID 19 Lockdown Key Information for Employees, Business Owners & Self-Employed
Presenter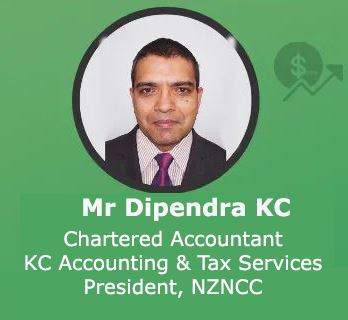 Moderator: Laxman Bhattarai, Treasurer, NRNA NZ
Topic 2: Maintaining Health & Wellbeing during Lockdown
Presenters
Event coordinator: Damodar Neupane, NRNA NZ Secretary
NRNA NZ also organized a joint meeting on August 24, 2021, with several Nepali Community organizations in New Zealand to discuss the situation due to COVID 19 Lockdown. 28 Nepali Community leaders representing different Community Organizations participated during the meeting.