COVID 19 Lockdown Key Information for Employees, Business Owners and Self Employed
– By Mr. Dipendra KC
Maintaining Health & Wellbeing during Lockdown
– Dr Jagamaya Shrestha-Ranjit
Yoga and mediation tips
– Ms Bimala Pokhrel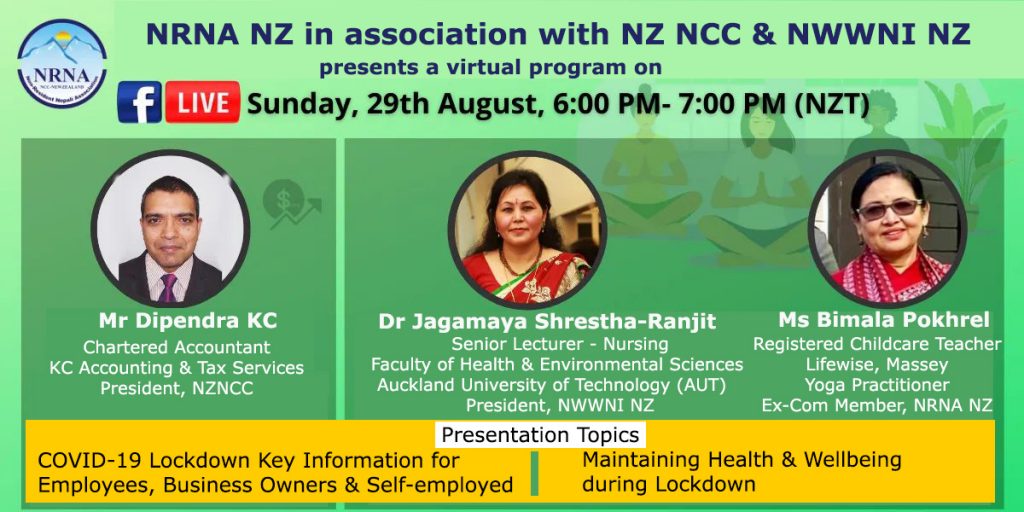 NRNA NZ in association with NZ NCC & NWWNI NZ organized a virtual session of one hour on topics as mentioned above. The event was live-streamed on Facebook. Live audience also asked questions to the presenters. The event was moderated by Mr. Laxman Bhattarai and Ms Roshani Gyawali.
View the event video
<iframe src="https://www.facebook.com/plugins/video.php?height=314&href=https%3A%2F%2Fwww.facebook.com%2FNRNA.NZ%2Fvideos%2F886012218673901%2F&show_text=false&width=560&t=0" width="560" height="314" style="border:none;overflow:hidden" scrolling="no" frameborder="0" allowfullscreen="true" allow="autoplay; clipboard-write; encrypted-media; picture-in-picture; web-share" allowFullScreen="true"></iframe>